This week's show featured Daniel Ong & Jaime Teo, an annoyingly sweet couple who are both radio DJs on perfect ten 98.7 FM. They went to three restaurants and as usual, the tantalising desserts were the centerpiece!
1. Gobi
There are two outlets, one at Katong Mall (112 East Coast Road, #03-13) and the other at The Central (6 Eu Tong Sen St, #01-27). Their desserts appear to be French inspired - lots of macaroons, meringues and mousse. Each piece fits perfectly in the mouth and looks too darn pretty to be eaten! According to the show, they have a sampler platter which you can order to get a taste of a variety of the desserts they offer. A plus point is their quaint Victorian style decor at The Central branch - makes for a leisurely afternoon tea.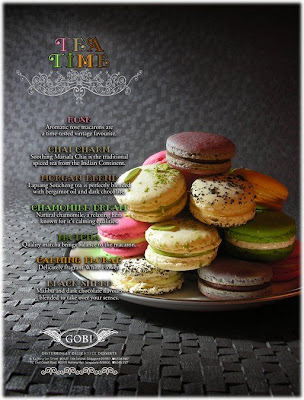 Here is a link to their website: Gobi website. Photos courtesy of the website as well. =)
Price range: $12.80 for 6 pcs, $23.80 for 12 pcs (for their fantasy range)
2. Brasserie Wolf
Brasserie Wolf serves authentic French cuisine in a casual bistro setting and they have Ratatouille (not a dessert though)! Their desserts are relatively cheap as compared to their entrees, which can set you back about $35 - $45. The desserts featured on the show are the Profiteroles with Vanilla Ice Cream, laced with chocolate sauce, Crepes Suzette with Vanilla Ice Cream and Dark Chocolate Mousse.
Location: The Pier At Robertson Condominium, #01-13, 80 Mohamed Sultan Road.
Price range: Approx $35 - $45 per pax for main course, desserts at $10 - $16.
Here is a link to their menu.
3. Brotzeit
Brotzeit is a German beer bar and restaurant that supposedly serves authentic German food, which means it's sausages, sauerkraut and beer galore! German food is an acquired taste in my opinion, so it would probably be a good place for me to have dessert only. =) The apple strudel with vanilla ice cream (Apfelstrudel) looks pretty yummy and is a must-try for German fanatics who want a taste of authentic German dessert. The Chef's Creation, which is a homemade vanilla gelato with pumpkin seed oil and almond flakes, looks no different from your normal gelato ice-cream.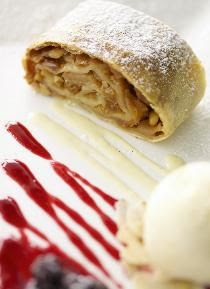 Here is a link to their dessert menu.
Location: Vivocity, #01-149 to #01-151.
Price range: $7.50 - $9.50 for desserts.